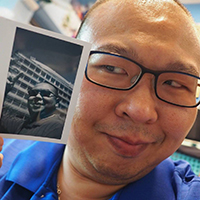 Dr CHAN Wing Ho, Michael
Dr Michael Chan received his BA, MPhil and PhD degrees from The University of Hong Kong in 1998, 2001 and 2008 respectively. His research interests include: Cultural Tourism, Heritage Conservation and Management; Hong Kong Urban Studies; Social Media and Networking. Before joining the Department, Michael taught courses in Cultural Tourism and General Studies at the School of Continuing and Professional Studies, CUHK and HKUST College of Life Long Learning.
Michael is currently the member of Advisory and Technical Committee, Advisory Board of Social Science and Humanities Research Association (SSHRA); Asian Academy for Heritage Management (AAHM); Royal Asiatic Society Hong Kong Branch (RASHKB) and The Association for Geo-conservation, Hong Kong (AGHK). He is also working as part-time Lecturer at the Department of Geography, HKU. For community service, Michael is serving as the Research Officer in the Centre for Life and Ethics Studies, The Society for Truth and Light, and the member of Hong Kong Gambling Watch.